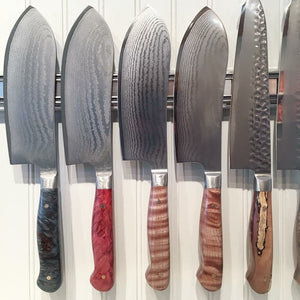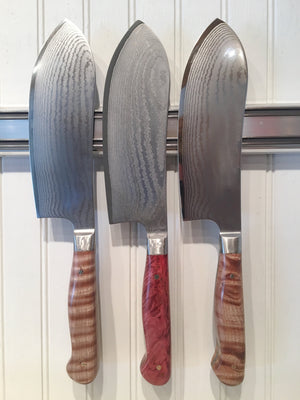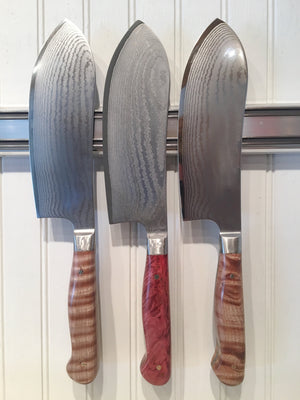 Curved Santoku
Hand Forged Stainless Damascus Steel, 67 Layers
6.75in Long by 2in Wide Blade
Extremely Lightweight and Scary Sharp!
Stabilized Hand Turned Wooden Handle
Quilted Metal Pins
Wood Types: Buckeye Burl, Spalted Maple, Dyed Blue Maple Burl, Dyed Red Maple Burl, Pacific Northwest Maple 
This shape of blade is designed for the rocking while chopping motion
Ideal for vegetables and meat
The handles need to be oiled with a clear oil perferrably Mineral oil over time and are not dishwasher safe. We recommend a diamond steel rod for sharpening over the years. All the layers in Damascus makes it the strongest steel out there and therefore it keeps the edge the longest. 
Please message us with your wood preference, or for current photographs of available knives in this style. 803-528-1848
At this time, we are not taking custom knife orders.