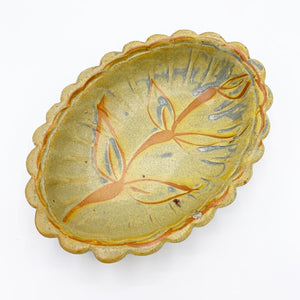 Golden Prairie Serving Dish
9.5 inches Long by 7 inches Wide 
One of a Kind
Hand built serving bowl and baking dish!! Perfect for baking vegetables or serving a side dish! 
Always place room temperature foods in pot before placing pottery in a cold oven. Gradually raise oven temperature to not more than 400 degrees. Never place a hot pot on a cold counter. With care your Hickory Flat Pottery should last a lifetime! 
Microwave & Dishwasher Safe
Each Piece is Made By Hand 
The golden hue and broad brush strokes are reminiscent of the tall grasses and fields blowing in the wind.
Glaze pattern Golden Prairie was inspired by potter Cody Trautner's upbringing in Northern Minnesota.