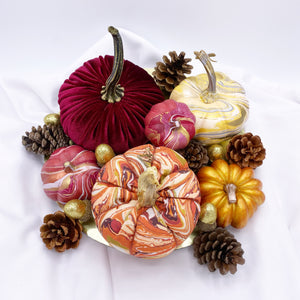 Sangria Pumpkin Bundle
Assortment of Limited Edition Designer Pumpkins!
Various Sizes of Hand Marbled Pumpkins Displayed on a 10inch wide Metallic Round. Pumpkin Materials include Cotton, Velvet and Foam. 
Presented with Wrapped Cellophane with a Matching Satin Bow!
Please Email Kim kim@no1alike.com for a Custom Message Insert! 
Made to be Enjoyed All Season Long!!!